If you're planning to go to Myanmar (which you should), you really have to visit Bagan. It's the ancient city where you can find more than 2.000 pagodas in a small area. Here are some tips to have a pleasant stay and a few 'must see' places and pagodas you can't miss out on.
How to get to Bagan
You can get there in many different ways. But the two to consider are by plane or by bus/coach.
Airplane

Getting to Bagan by plane will be the fastest way, but also the most expensive one. There is an airport in Nyaung U (NYU), a neighbor city of Bagan. Flying from Yangon will cost you around 100 USD per person and you'll be in the sky for 1 hour and 20 minutes.

Bus – Coach

But there's a cheaper way, going by bus. This is what I did. There are many bus companies that provide a drive to Bagan, prices start around 10 USD. I chose the company JJ Express. It costs a bit more (around 20 USD) but it gives you much more comfort than the other companies. It has 'first class' night buses where a row doesn't have 4 seats, but only 3, which gives you much more space. You can book online and can choose for a seat alone or two seats next to each other. The backrest can be lowered and the foot end comes up as well, so you can lay down much more comfortable and have a descent sleep. You'll be on the road for approximately 10 hours. It departs and arrives in almost all the major cities in Myanmar, in Yangon it operates from Aung Mingalar. When we left Bagan, it even picked us up at our hotel with a smaller bus that took us to the departure site. Highly recommended.
Feeling hot hot hot
Prepare yourself to even higher temperatures than the rest of Myanmar. It's hot, very hot. From February to June it's the hottest in Bagan with temperatures around 40°C / 104°F, but other months are hot as well. The rain season starts in May and ends in October, but even in the wet season the city has very dry periods.
What to wear?
Dress lightly, wear sunscreen, take a hat or cap and don't forget your sunglasses. But remember you're going to visit religious sites. It's not because they're old that the rules don't apply here. Dress appropriately. That means covering up your shoulders, no crop-tops and no shorts or short skirts, best is to cover up your knees. If you want to wear a top, you can take a scarf with you and cover your shoulders with it when you enter the pagodas.
Where to sleep?
I recommend staying in Bagan for at least three days. You can't get enough of this city. There are three regions where you can book a hotel: Old Bagan, New Bagan and Nyaung U. Nyaung U is further away from the temples, but very close to the airport. Old Bagan is in the middle of the ancient site with all its temples. New Bagan is also a little further away, but not as far as Nyaung U.
I stayed in New Bagan in the Kaday Aung Hotel. This hotel has a swimming pool. I can assure you that having a pool in this hot weather is not a luxury but a must-have. If you want to book a hotel, you can get 10% of the price at Booking.com by using my referral link.
How to get around?
The best way to explore the ancient site with all its pagodas is to rent a motorbike or e-bike. You will probably get an e-bike which are easier to ride with because they're not so heavy as motorbikes, but won't go that fast either. You can (probably) rent them at your hotel, what I did, but the city is filled with e-bikes. You can find one to rent at every corner of the street. Do check your battery before you leave. They might not always be fully charged and you really need a full battery when you're going on your way. Make sure you have a phone number of your hotel or the e-bike renter so you can contact them if you have a battery-problem.
Don't forget
Tourist entrance fee

In Myanmar you have to pay entrance to every pagoda you go as a tourist. It would be rather expensive if you had to pay for every pagoda on its own in this city, considering there are over 2.000 pagodas. Therefore you have to buy yourself an entrance card of Bagan. It costs 25.000 Kyat and is valid for 5 days. You probably will buy this when you enter the city with your taxi, but if you don't, you can also buy them in your hotel. Know that you'll need this card even for the smaller pagodas, they may not check at the entrance, but there are people driving around to check on you. You don't need it to enter Bagan itself, but once you enter a pagoda or go to a viewing mound, you need one.

Hot air balloons

The famous hot air balloons only fly from October till March. If you really want to see them, you should plan your trip in the right season.

Climbing-ban of pagodas

It's forbidden to use the stairs of almost all the pagodas. They're even locked with an iron gate. The Archaeological Management Committee of Bagan decided a climbing-ban was the best thing to do to preserve the ancient pagodas.

Now I understand that you still want to admire the sunrise and sunset from higher grounds. That's what all of us want, isn't it? I made you a list of places where you can still enjoy this beautiful views.
Taung Kalat on Mount Popa (Monkey temple)
Mount Popa is located 50km away of Bagan (1 hour driving), but you should really take half a day to visit the Taung Kalet monastery on the top of this mountain. Be courageous and walk the 777 steps of the stairway to the top and you'll be rewarded with an incredible view (again).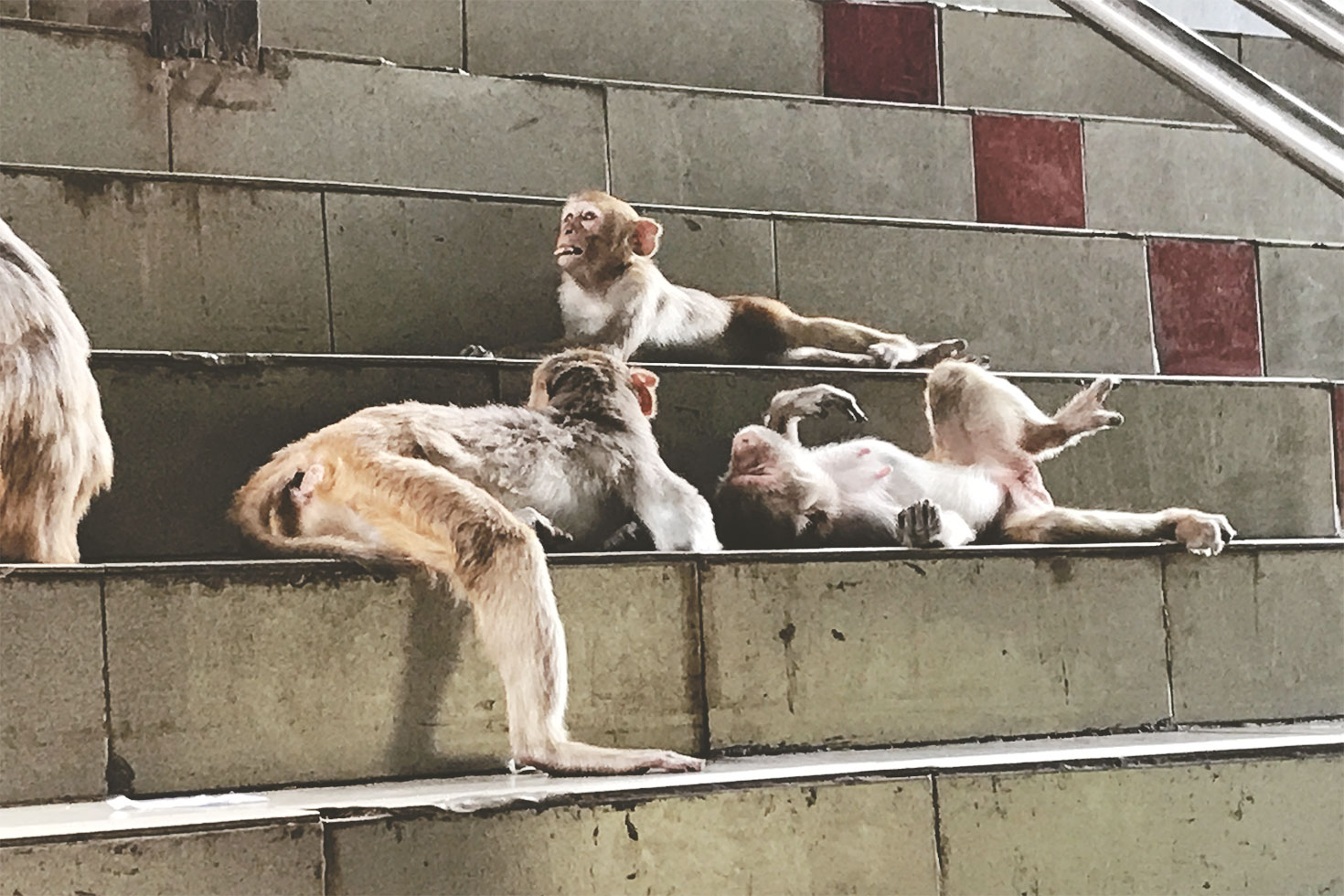 But beware the monkeys that seem sweet at first. They are the best thieves in town and are interested in everything you didn't put away: your food, sunglasses and even your camera. You can ask a taxi to bring you there, but I think it'll cost you less if you ask some information at the staff of your hotel. The kind people of our hotel took care of it and we had a chauffeur for half a day who brought us to Mount Popa, waited for us and got us back at our hotel.
Which pagodas to see?
I like all the temples in Bagan, even the smaller ones. They look so idyllic and give the city that unique look. But there are bigger pagodas that you should visit as well. They are more crowded, especially Myanmar people come to honor the Buddha in these bigger temples, but you'll find more tourists as well. Here are a few masterpieces you should pay a visit:
I made you a map so you can find your way to these pagodas. If you bought a sim card in Myanmar and you have internet or you downloaded the offline map of Bagan, you can use the map I made in Google maps to navigate yourself to these places.