Watching the sunrise and sunset when you go to Bagan in Myanmar is compulsory. The site filled with ancient pagodas is magical on its own, but taking the time to sit down and enjoying the sun coming up or going down the horizon is amazing. A must-do.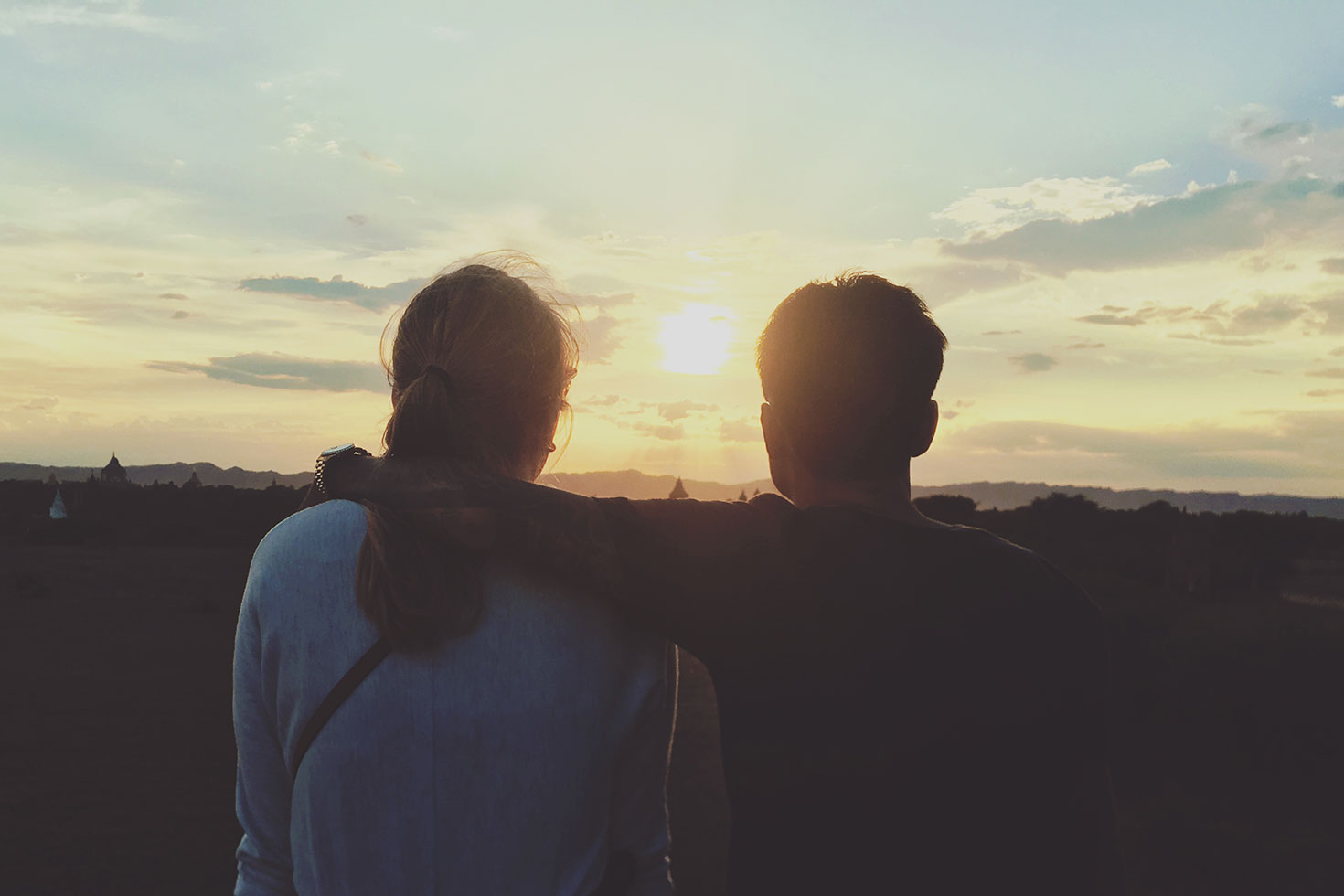 Of course you can see the sunrise and sunset everywhere. But there's no better way to experience an incredible view than from higher grounds. In Bagan you can enjoy this kind of view in 4 different ways:
Pagoda climbing

I think one of the top 'attractions' of Bagan is being able to climb the stairs of the temples and seeing the sunrise from the upper floors of these temples. Sadly, there's a climbing-ban in force since January 2018. The stairs of all the temples in Bagan are closed for public and climbing the temples isn't aloud anymore. Luckily I did find a small pagoda that doesn't have an iron gate that closes its stairs. It's small, you can't get as high as you could on the bigger pagodas, but the view is still amazing.

Man-made viewing mounds

When the Bagan Archaeological Management Committee enforced the climbing-ban, they decided to build a few mounds around a lake so tourists can come here to enjoy the sunset and sunrise on 'higher ground'. I've been to one of them to see sunset and I could see the sun and an overview of Bagan (for free). But it gets crowded, tourists come here to see sunset and locals come to sell you anything they have (artwork, books, souvenirs), so you won't get any alone-time.

Bagan viewing tower

It gives you a 360 degrees view of Bagan on a very high point that can be reached by elevator. So sunset as sunrise can be seen from this tower. But might not feel right as your standing in a modern building in an ancient site. As for June 2018 the entrance fee was 5 USD, but seems to vary from time to time.

Hot air balloon

Of course, there are the hot air balloons. I think everyone knows the famous views of Bagan with hundreds of balloons in the sky. Good to know is that the air balloons only fly from October till March. The other months you won't find any air balloon to fly with and, of course, you won't find an air balloon to spot during sunrise either. Watching the sunrise and the overview of Bagan from an air balloon must be good, but it's expensive. Prices start from 300 USD or more per person. The staff of your hotel can certainly help you with more information if you're interested.
Where to go for sunset
I made you a map so you can find your way to these sunrise-spots. If you bought a sim card in Myanmar and you have internet or you downloaded the offline map of Bagan, you can use the map I made in Google maps to navigate yourself to these places.