This ancient temple in Bagan might be the only one where the upper floor is still accessible by its stairs. Not many people are aware of it, so you have the space and privacy to enjoy the beautiful sunrise and sunset from this small pagoda.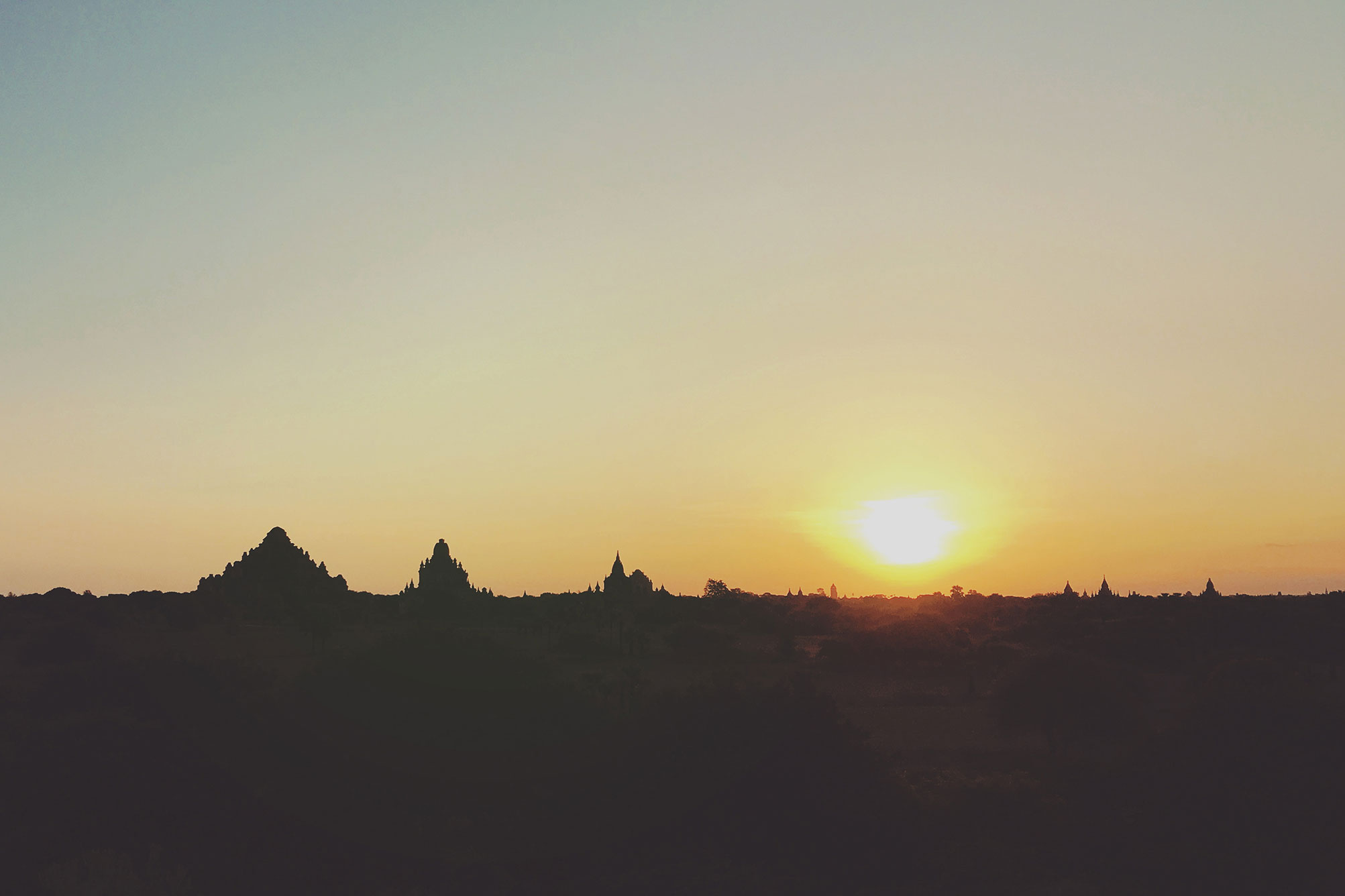 I was so excited to visit Bagan. I was looking forward to see the ancient temples of Myanmar (Burma), to climb the stairs of these pagodas and to be mesmerized by the view of the sunrise and sunset from these temples. Dang it. What a disappointment it was when I heard there was a climbing-ban on every pagoda in Bagan. All the stairs of all the temples had been closed off with iron fences and locks since January 2018.
I was so focused on seeing the sunrise and sunset from the top op the pagodas, that when this wasn't a possibility anymore, I was kind of lost. But my Myanmar friend talked a little with the locals of Bagan. One of them told us that he knew one pagoda where the stairs were still open. It was a small one, but as far as he knew, the only one where the upper floor was still accessible. So we decided to go there very early the next morning.
Pagoda 1311
The morning after we had to look for this nameless pagoda, archived as pagoda number 1311. We didn't look for the temple the day before, and that might have been a little dumb. We were on an e-bike in the dark with only the tourist map of Bagan to lead our way. And we didn't really know what the temple looked like or where it exactly was. (The map is a little vague when it comes to the smaller pagodas.) Thankfully we did bump into two tourists and a local on their way to the same temple, so we followed them to the finish line. The sun was already coming through, but that wasn't a problem. What a little height can do to a view. What a beautiful sight it was!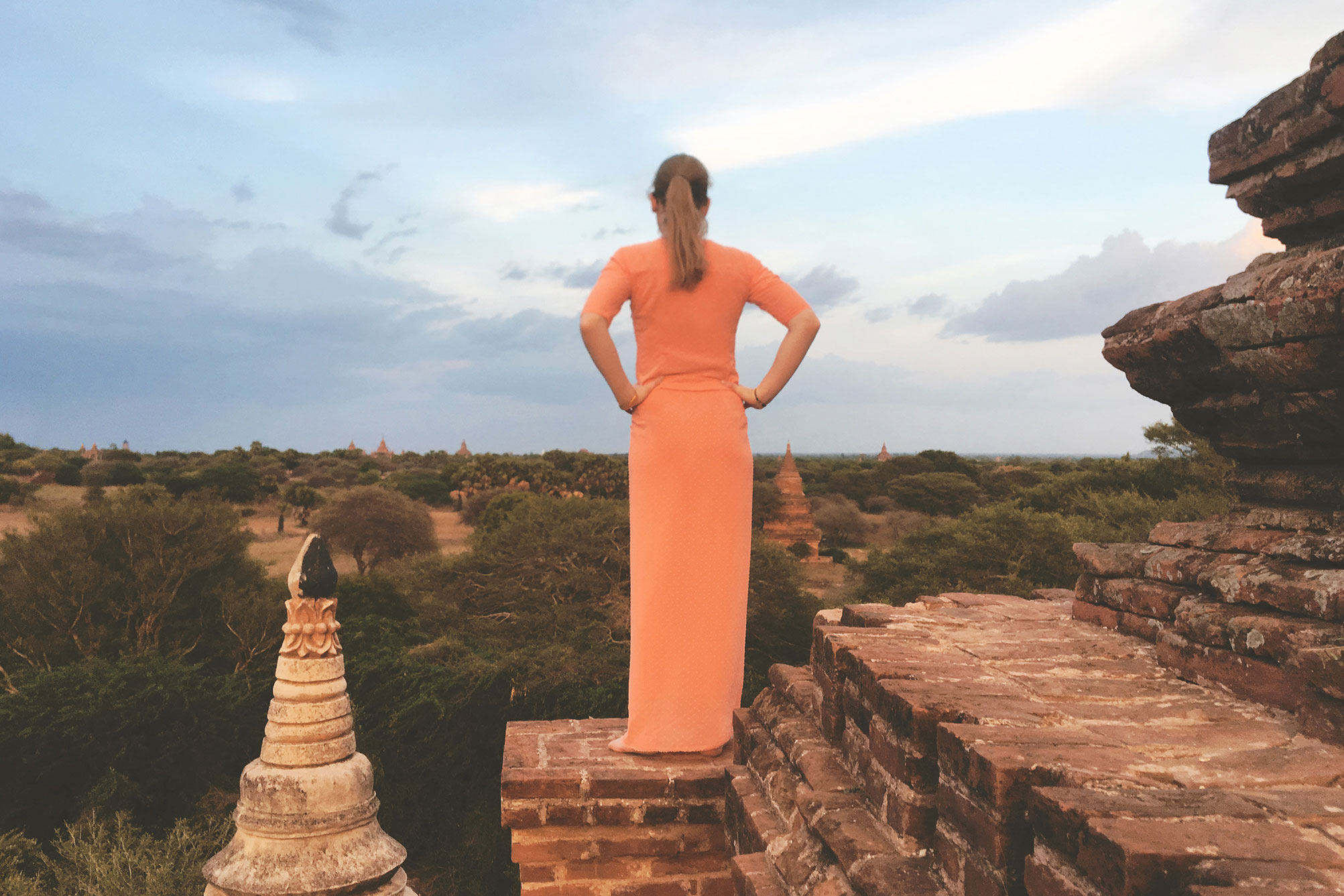 How did we get there?
When you're driving on the big Anawrahta Road, you have to aim for a smaller road that is between the Ananda Temple and Thatbyinnyu pagoda across the road of these temples. This road also leads to Shwesandaw Pagoda. So if you find a sign mentioning this temple, your heading the right direction. You should take this road straight ahead. Don't go left to Shwesandaw Pagoda. Don't go right to Loka Oakshang Temple. Just drive on. If you see the North Guni and South Guni temples in the distance on your left side, you are almost there. Keep looking at your left and you will notice the temple I'm speaking of. It's not big, but it's bigger than the really small ones and… it has a platform. You will see that there's not really a paved road leading to it, but in the sand you will find a track of e-bikes to this pagoda.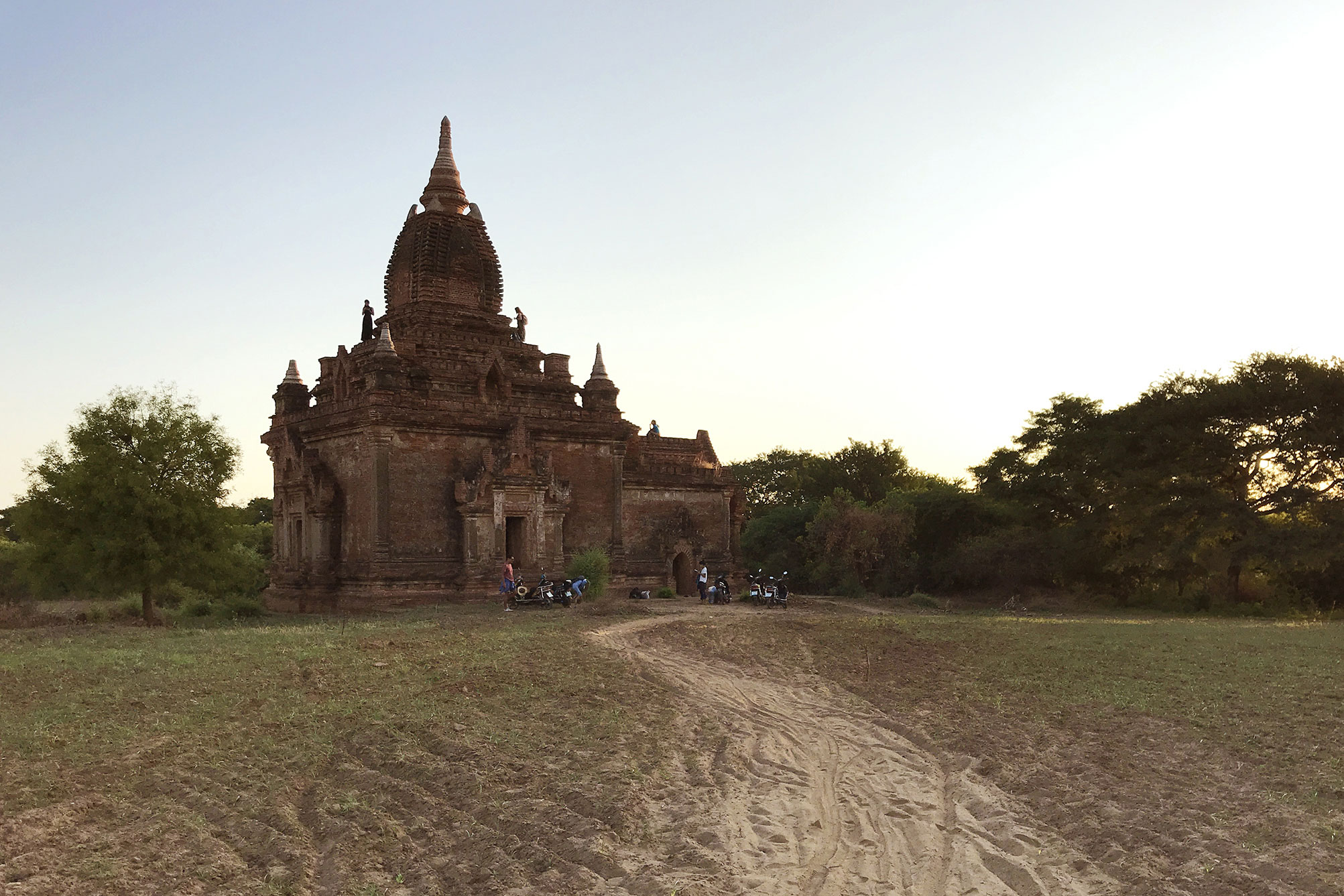 Find your way inside
You can take every entrance you want, but we took the small one on the right side because there were shoes of other visitors… If you go inside here, you might overlook the entrance of the staircase. When you look left, you will see the Buddha. When you look right you see another entrance to the temple but at most right you'll see a whole in the wall. Go inside. You might need a flashlight or the flash from you phone. If you're coming for sunrise, it'll probably be still dark, the staircase itself doesn't catch a lot of sunlight anyway and you're walking barefoot, so it might come in handy if you don't want to hurt yourself.
Once coming up, you'll be on a platform, but to get a really good sight, you should get up a little higher. You'll see this little entrance triangle with some small stairs that'll lead you just a little higher or you can climb the wall instead. But that is the highest point you can or should go. You can go all around 360 degrees, that makes this pagoda perfect for viewing sunrise and sunset.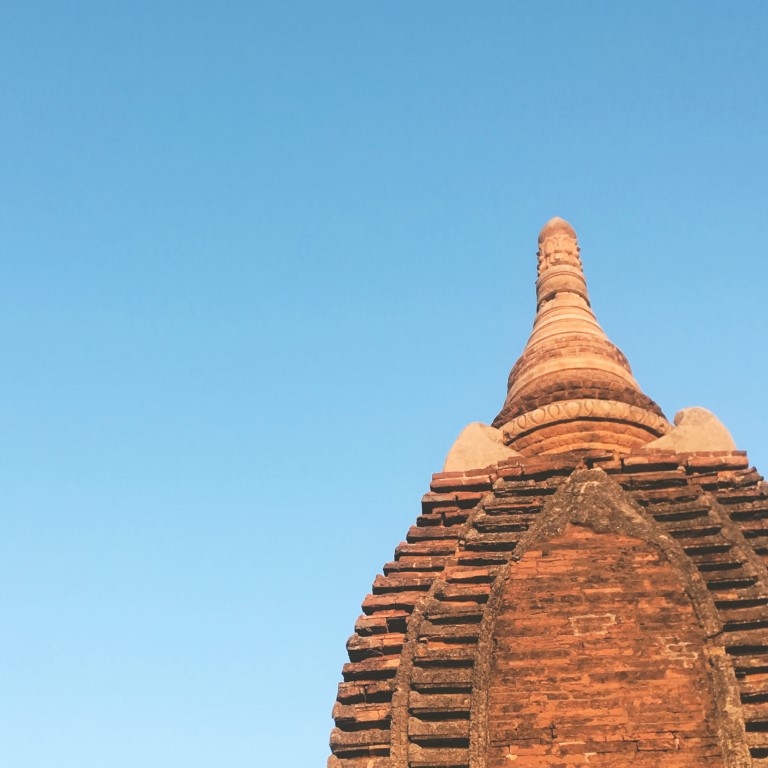 Pagoda 1311 might not get you to incredible heights and you might not see everything of Bagan because you're only one floor up. But for me this was a highlight of my trip to Bagan. When I thought that seeing the sunrise or sunset from the top of a pagoda would be impossible, I was so relieved that this small temple gave me the view I wished for. I wouldn't wanted to miss this view.
Not that many people know of this pagoda. At sunrise, I think we were here with seven people. At sunset, we were the only ones. Some locals know this place is accessible, but not that many of them speak English. We were here in low season, so it might be a bit busier at other times of the year. I would recommend you to come early either way so you can enjoy the sunrise from the very beginning at a good spot.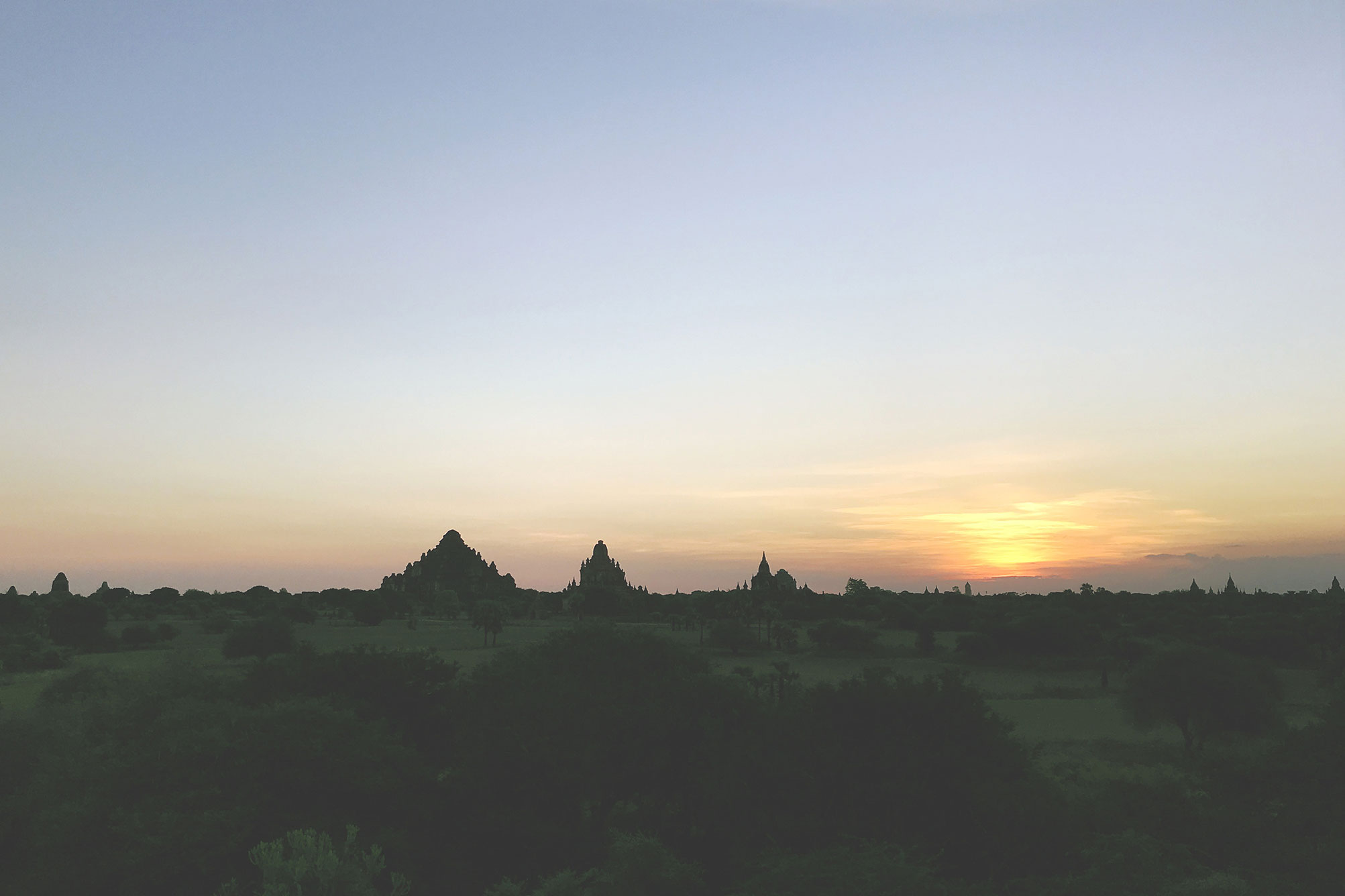 Map your way to the sunrise
Maybe my explanation wasn't that clear to you, or you're more a map-person. Well, I made you one! On this map you see where the pagoda is in Bagan. If you bought a sim card in Myanmar and you have internet or you downloaded the offline map of Bagan, you can use the map I made in Google maps to navigate yourself to this temple.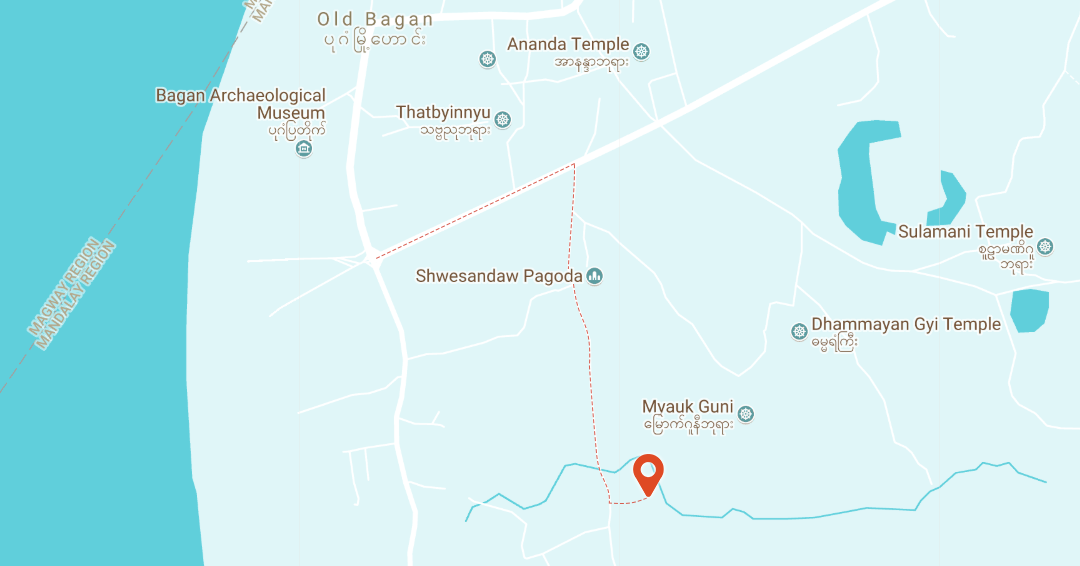 A few notes:
Entrance fee

Even for the smaller pagodas you need an entrance card of Bagan. And yes, they do check. When we were enjoying the view, a man came up to check if every foreigner had his entrance card with him. So make sure you don't forget it in your hotel. You probably will have bought this when you entered the city of Bagan with the taxi, but you can also buy them in your hotel. They cost 25.000 Kyat each.

Access to top floor

As for June 2018 the staircase of this pagoda didn't have a gate or lock and the top floor was accessible. I don't know if it'll stay this way. For what the locals told us, this was the only temple that had access to the stairs. We did check other temples, but even the ones far away from a crowd were closed off. But there might be other temples open as well. If so, tell me where to find them (pretty please).

Hot air balloons

I don't know if you can see the hot air balloons from this pagoda. I think you can because you can see rather far. But the balloons only fly from October till March, so I didn't get to see them. If it's a must for you to see the balloons, plan your trip in the right season.
If you're not so adventurous or just don't feel like climbing a pagoda, but you still want to enjoy sunrise and sunset from higher grounds, I have found 4 different places where you can admire beautiful Bagan.